At the beginning of every month I plan to host a brand new "Life is About..." Blog Hop to allow anyone and everyone to link up their posts about what's important or going on in their lives. Your posts can be about anything! A photo. A story. A recipe. A craft. You name it! Each hop is open until the end of the month when a new one begins. Just be sure to grab the blog hop button below (or on my right side bar) to add on your post, showing others your linking up!
You are also welcome to grab the linky code below the list of link-ups to grab for your blog (the same linky list will appear on everyone's blog, allowing others to "hop" between blogs), but it's not required.
My favorite submission(s) will be featured on the following month's hop.
So, be sure to come by the first of every month to participate!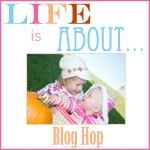 This blog hop is temporarily discontinued. Stay tuned for further details.